One of the problems I have always had about going to play parties - is the dress code.. or as I like to put it ... dressing to impress.
I am always amazed at the wardrobes people have for kinky play parties. I don't think I ever see anyone wearing the same outfit twice. The other problem I have is most of the outfits are daring and reveal a whole lot more than I am comfortable revealing. (which is pretty stupid seeing as I can - from time to time - land up virtually naked during a scene - and after wards - until I get my feet under me again and my brain working) But there you have it......... I am a prude of the worst sort.
I am most comfortable wearing a corset with a long skirt.
But right now I have exactly one corset that fits and one long skirt that doesn't fit .
I do however have a black leather (nice soft kid leather) halter dress that I bought late last summer when I was losing weight ...... slowly. Unfortunately the dress was still too small so I hung it in my cupboard until the day came when I could wear it.
Well we have another play party we are going to this weekend........ and so I pulled the leather dress out and tried it on. It fits ok.......... yeah just ok.......... it is a wee bit big in the bust and fits fine over my hips.
I also don't much like wearing just black - I think I look like a corpse ....... or boring.. or something less than flattering.
Oh I found a very close facsimile of the dress on the net................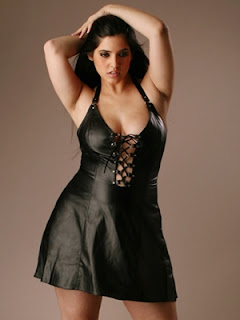 I have decided to wear it ... despite it's being a bit big across the top....... but I have also decided to dress it up a little bit............
I have white cuffs I am gonna add ........ wear white fish net stockings.... and knee high leather boots........... oh yeah and a pair of white thongs underneath. I know the knee high black leather boots are gonna land me in trouble - seeing as submissives don't usually wear them - female dommes do - sigh - here I go again.......... But I hope to be able to carry it all off with confidence and a splash of "je ne sais quoi". (I'll let you all know how it goes afterwards - promise!!)